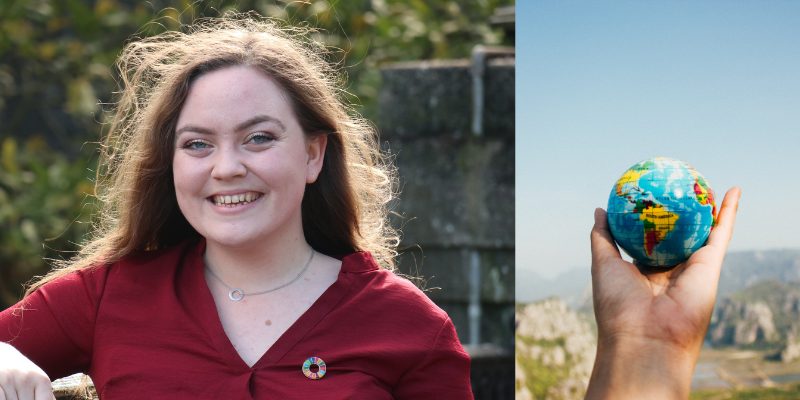 As someone that was seeking out a college course that aligned her interests and passion, Mair Kelly came to a UCC open day with an open mind.
Although she had identified several courses across a range of disciplines, it wasn't until Mair sat in on a workshop delivered by BSc International Development and Food Policy programme director, Mike FitzGibbon, that she knew the programme would sit at the top of her CAO application.
I was really unsure about what I wanted to do. I toyed with the idea of studying programmes like Arts, Politics or Environmental Science.

But after attending the open day, I knew that the BSc International Development would be my first choice.

I loved how the workshop talked about development and sustainability, it really fleshed things out and gave me a taste of what to expect.

The final year students gave us a real insight into the practical applications of the programmes too.
Mair's desire to enrol in the programme stemmed from her involvement in the West Cork branch of the YMCA and community activism more generally.
As a transition year student, Mair worked with an organisation that offered support to people living in direct provision centres and wanted to be able to continue contributing in some capacity at UCC.
During induction, Mair gleefully discovered that the programme doesn't just encourage students to get involved in advocacy or community organisations, it facilitates them by not scheduling lectures on Fridays.
Even though Mike FitzGibbon was on sabbatical when I started first year, he asked students to get in touch with him if they were interested in supporting people in direct provision.

Across the programme, the lecturers encouraged us to get involved in societies, community projects or to volunteer because that's what the degree is really about.

The amount of practical experience people gain from working or volunteering with organisations is amazing.

As the Chairperson of the Fáilte Refugees society at UCC, for example, I was constantly applying what I had been learning in the classroom.
Despite never intending to become Chairperson of Fáilte Refugees, Mair took on the role in her second year, and oversaw a transition that saw the society become an organisation the sought to challenge political issues.
As part of the wide-ranging project, Mair and her colleagues needed to address some of the practical hurdles associated with such a rebrand.
That experience exposed her to concepts relating to project management, graphic design and social media management.
In the coming months, Mair anticipates being able to reinforce those skills as part of the BSc International Development and Food Policy's 24-week work placement module.
Although COVID-19 might limit Mair's ability to engage directly with employers, leaning on her experience of working with the Glucksman Gallery, she wants to help empower community organisations through art and creativity while on placement.
As someone who is determined to build a career at the intersection between community work, outreach and entrepreneurship, Mair anticipates that the placement will help her to make an informed decision about her postgraduate options.