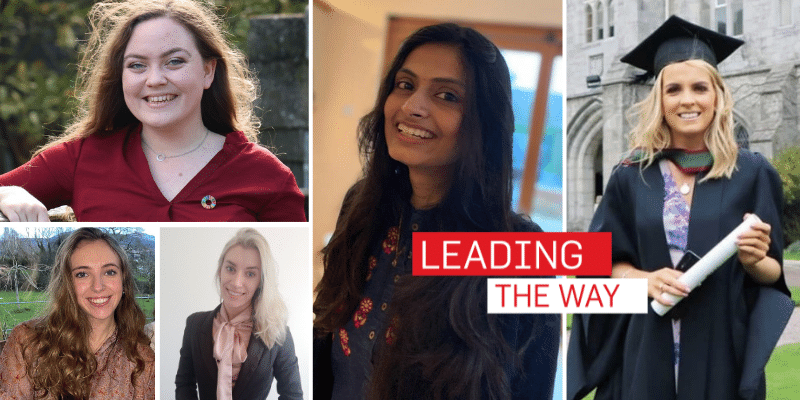 On this International Women's Day, we're celebrating the achievements of our female students and recent graduates by demonstrating how they are helping to #breakthebias by prioritising sustainability across multiple disciplines, businesses and organisations.
Mair Kelly, a final year BSc International Development and Food Policy student, is one such example.
Having worked with an organisation that offered support to people living in direct provision centres, Mair wanted to continue to contribute to the sustainable agenda while studying at CUBS.
In her second year, she became Chair of Fáilte Refugees, a UCC society dedicated to welcoming refugees and asylum seekers to our campus, Cork and Ireland.
Now the Vice President, PR and Media at UCC Societies, a Southwest and National Action Panel member and a reporter for SpunOut.ie, Mair contributes to national policy making, acts as a consultant on youth issues and plans national campaigns.
An emerging expert in the field of entrepreneurship, Shirley Brookes is a graduate whose desire to learn more about this sparsely documented field brought her to the attention of the Business School's expert faculty.
Now a Fund Accountant at The Citco Group, Shirley landed the prestigious role after completing a compelling thesis titled "The key determinants of Social Entrepreneurship across underdeveloped, developing and developed economies".
The knowledge and skills that she began to develop as a student aligned with those demanded by the financial services industry, which is quickly embracing sustainability.
Altruism also played a role in Katie O'Reilly's decision to enrol at CUBS. Originally an Arts graduate, Katie was determined to brush aside any technical obstacles that might limit her ability to work in the tech industry.
Encouraged by faculty, Katie quickly developed insights into the practical application of BIS. That knowledge has provided her with the opportunity to engage in research on diversity and equality in the tech space.
Due to graduate later this year, Katie's timely research is looking at how the makeup of a design team can influence the results published by an algorithm.
Rachel Carey is another recent CUBS graduate who is leveraging sustainability to build a career. Now working with Greenhouse, a leading branding and communications agency, Rachel is working on a number of projects that help food companies embrace and showcase sustainability with a sense of vibrancy. The role represents the culmination of an ambition to work in the sustainable food industry.
That ambition also resided in Komal Kansagra, who made the decision to enrol in the MSc Co-operatives, Agri-Food and Sustainable Development after observing how inequality was indirectly contributing to the degradation of the environment in Rajasthan, India.
As an environmental engineer, Komal had developed a great deal of hands-on experience in biotechnology and the environmental field but wanted the organisational and management skills to make innovative contributions to the development of local economies.
Now working with WHC Lab, Komal wants to break into the food industry before returning to Rajasthan with the skills and knowledge to promote sustainable change.
Together, these five female students represent a tiny fraction of the women who are working to #breakthebias at CUBS.
Leaders in array of fields and disciplines, female staff, students and alumni of the Business School are at the forefront of projects that prioritise the triple bottom line of people, planet and profit.
Led by Professor Thia Hennessy, CUBS is making huge strides toward becoming an accredited business school with a global reach.