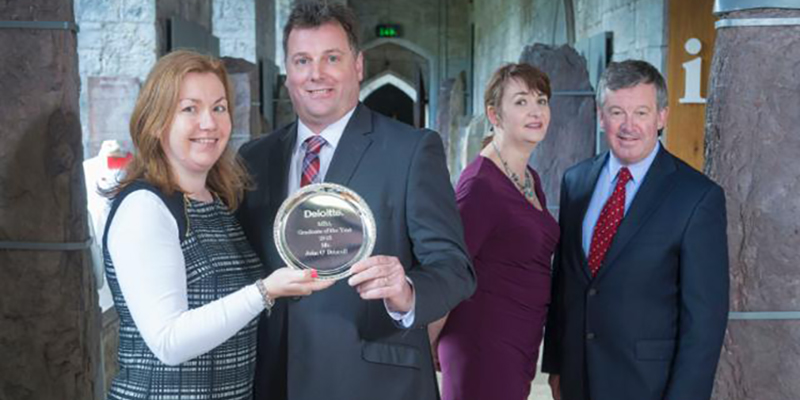 John O' Driscoll, of Bank of Ireland, is the recipient of the Deloitte UCC Executive MBA Graduate of the Year award for 2015. The reward is presented to the outstanding student of the recently graduated class.
John is the Regional Change & Operations Manager for the South-Western Region, Bank of Ireland.
The Ballingeary native has also had a significant sporting career, winning two All-Ireland football medals playing for Cork in 1989 and 1990 and representing Ireland in International Rules and basketball.
He receives the Deloitte award for finishing top of the 2015 Executive MBA graduating class at UCC.
Presenting the award Honor Moore of Deloitte said 'Deloitte is honoured to be associated with this prize which recognises excellence in business leadership education'. She complimented John's achievement in being top of his class.
UCC President Dr. Michael Murphy, who hosted the award ceremony, paid tribute to Deloitte's commitment to supporting business learning, in particular the importance of their on-going support for the UCC Executive MBA programme.
UCC Executive MBA Director, Dr. Joan Buckley, congratulated John for his academic achievements and his overall contribution to the class.
She pointed out that the Deloitte prize recognises excellence in the very successful Executive MBA programme.
"In this prize we recognise an executive who has shown exceptional ability", she said.