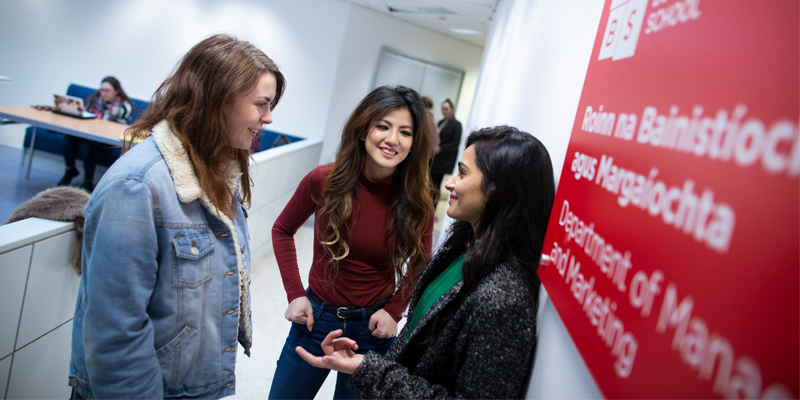 Immediately after UCC closed its historic gates to help slow the spread of Covid-19, faculty and staff began working hard to maintain a sense of familiarity at Cork University Business School.
Right across University College Cork, lectures, coursework and exams have successfully moved online and continue to provide the highest standard of education in business.
Our student community is well-supported and well-positioned to handle these times of adversity for Ireland and the world. Our ambition is to instil among our students, the knowledge, skills and creativity that will be required to help rebuild the global economy in the months and years ahead.
Assisting prospective postgraduate students form part of that ambition. That's why we are continuing to process postgraduate applications, and have made our team available to promptly respond to any queries prospective students may have as part of a dedicated online person-to-person Postgraduate Consultation service.
Our team are available to answer any questions you have, such as;
Where do your current strengths lie?
Should I choose a taught or research programme?
What Postgraduate CUBS programmes am I eligible to apply for?
How to do apply and when can I apply?
What funding and scholarship opportunities are available to me?
Our Programme Directors are also working remotely should you have any specific queries in relation to the module content of our programmes.
In times of uncertainty, we embrace change and prepare for it. The future is waiting for leaders to manage and lead with vision, courage and ambition.
The Business School is doing what it can to facilitate you enrolling on our Masters programmes. We believe in helping people to make smart moves and look forward to seeing you back on our beautiful campus at the start of the next academic year.
UCC has also created a dedicated webpage which is regularly updated with real-time information and news.