Chris Martin
The remit of the Board of External Advisors of Cork University Business School is to offer the Dean and the School independent external advice and actively support delivery of the School's Mission and Strategy.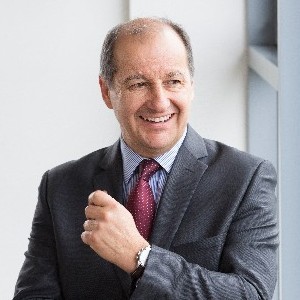 Chris Martin is CEO of Musgrave, the leading food retail, wholesale and foodservice business on the island of Ireland.
Founded in 1876 in Cork, by brothers Thomas and Stuart Musgrave, Musgrave is one of Ireland's longest-running family businesses. With a strong portfolio of market-leading brands, today Musgrave and its retail partners support more than 40,000 jobs, in more than 1,400 stores and offices across seven brands in three markets, with total sales of €3.7 billion.
Prior to joining Musgrave, Chris had developed a strong and lengthy career in retail and leisure including CEO of Mothercare plc, Group Finance Director of Storehouse plc and various roles in ASDA and Pizza Hut. He is a board member of Business in the Community Ireland (BITCI), a member of the policy committee for IGD and has participated in the European Commission review of retail competitiveness.
An economics graduate of Newcastle University, he is a member of the Institute of Chartered Accountants in England and Wales, and a fellow of the Royal Society of Arts.